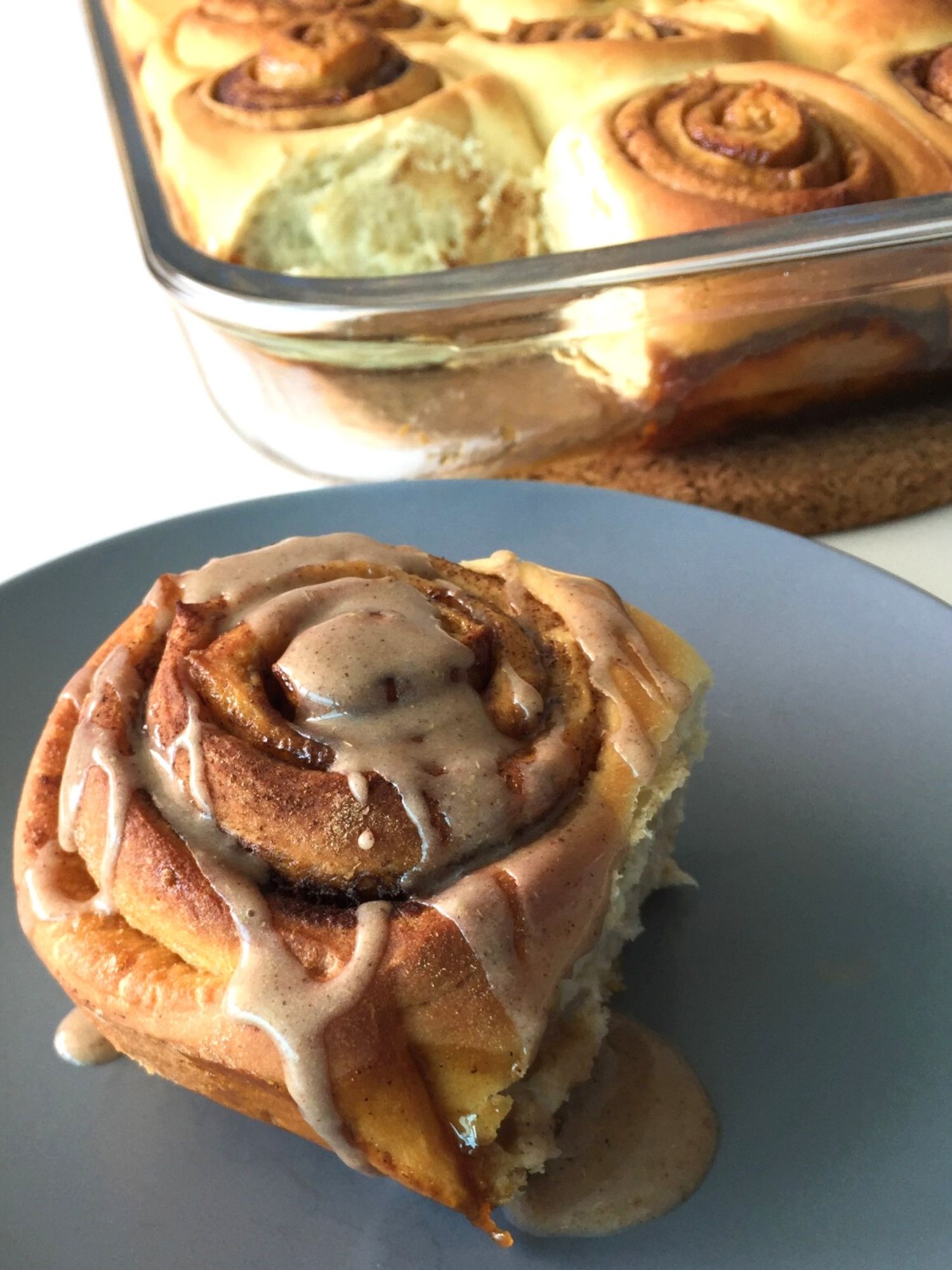 Cinnamon Rolls with Spiced Frosting
Cinnamon Rolls with Spiced Frosting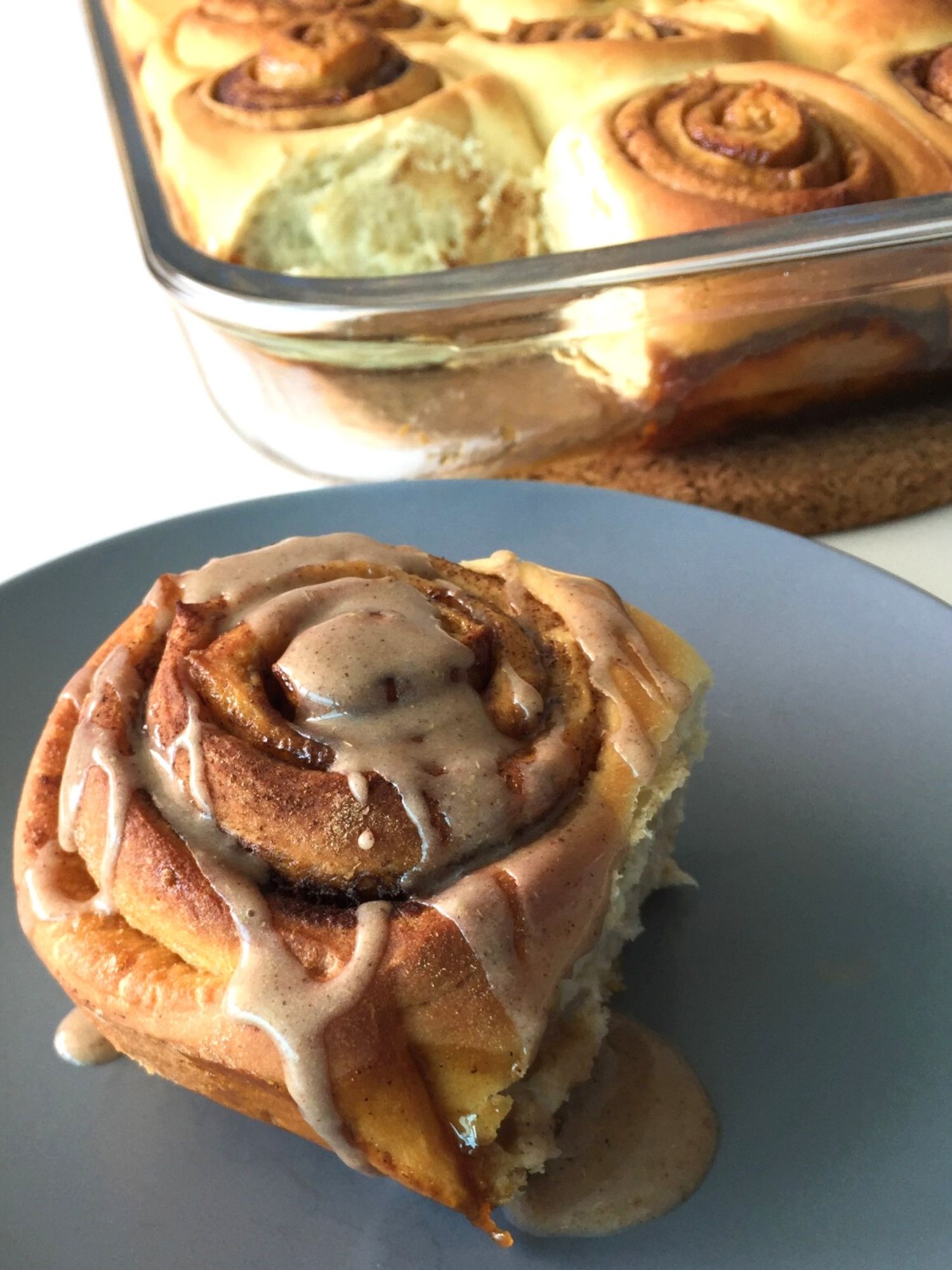 These cinnamon rolls are the absolute best, we make them, and by we I mean I make them for one or two special occasions per year. Randomly and out of the blue, last one night Tom asked for cinnamon rolls the next morning. Who was I to deny him 🙂 I loove cinnamon and cardamom and all the warm spices. So we doubled down and spiced up the frosting glaze as well. These come together in about 3 hours but that may extend to 4 hours depending how warm it is.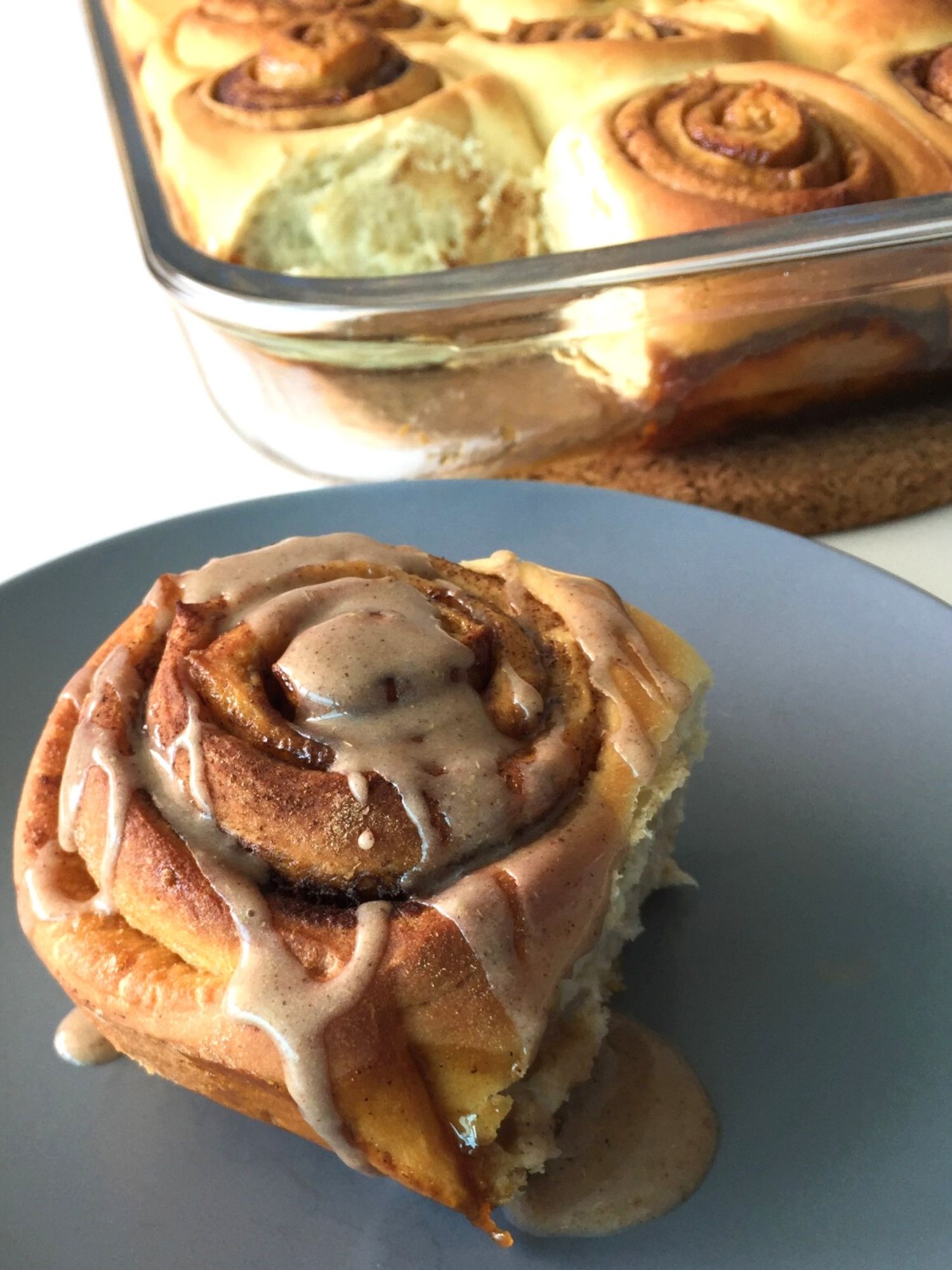 Cinnamon Rolls with Spiced Frosting
Instructions
If you have a stand mixer with dough hook attachment, please use that, however, if like me, you do not, then these are not much harder to make by hand.

In a large bowl(or the bowl of the stand mixer), whisk together 2 tsp Instant Dry Yeast, 1.5 cups Warm Water, 1/2 cup Sugar, and 3 TBS Butter (melted).

In a small bowl, crack your egg, ensuring that it's good, and whisk it.

Add the egg into the large bowl and whisk together with the yeast mixture.

Now we are going to add in the flour and salt. I like to add 2 cups of flour and the 1.5 tsp salt and whisk together with the wet ingredients, it will be like pancake batter at this point.

Then stir in the remaining 3 cups flour with a wooden spoon. Once the flour is mixed in, it should form a ball and not bee too sticky.

On a clean counter, take the dough from the bowl and kneed it for 5 minutes or so. You want the dough to start becoming smooth and elastic. If it is too sticky add a little more flour until you are able to kneed it without it puddling.

Put the dough back into the bowl and cover with plastic wrap(or a clean plastic shower cap works great) until it has doubled in size (about 1 hour)

Once the dough has risen we need to roll it into a large rectangle.

Lightly flour a clean counter top, dump the dough out onto the counter and gently mold it into a rectangular shape.

Using a rolling pin, or other rolling device (metal water bottle, wine bottle…) roll out the dough into a large even rectangle, about 1 foot by 2 feet.

Now that you have the dough rolled out, take the 1/4 cup softened butter and spread it over the dough(I usually use my hands, it's messy but effective)

Now sprinkle the brown sugar over the buttered dough in an even layer.

Sprinkle the cinnamon evenly over the dough

Now roll the dough up so you end up with a log that's about 2 feet long. I like to start from one corner and little by little roll the dough over, working from one side of the log to the other and back again.

Slice the long into 12-15 even pieces and place them in a 9x13 baking dish, (I make 5 rows of 3 rolls each, or 4 rows if you cut 12)

Cover and let rest for about an hour until they have double in size

Preheat the over to 175C / 350F

Once the rolls rise, uncover and bake for 25-30 minutes, until they are golden brown.

While the rolls bake, make the frosting. In a bowl, whisk together the 12 TBS powdered sugar, 2 TBS Milk, 1 tsp Cinnamon, 3/4 tsp Cardamom, if the mixture is too thick, add a tiny bit more milk, if it's too thin, mix in another tablespoon of powdered sugar.

Serve the frosting over the rolls and enjoy!
Notes
*If you will be saving some for later, I think they store better un-iced, so just store them and the icing separately in air tight containers at room temperature for up to 3 days.
Recipe Card powered by